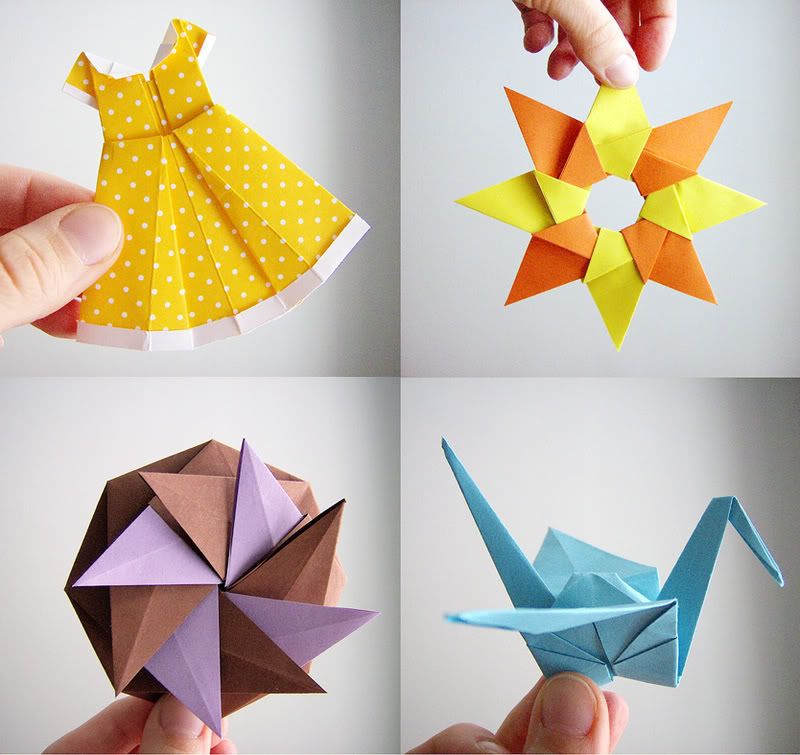 Origamis are my latest obsession. I started borrowing origami books from the library about a month ago, because I wanted to teach some very easy foldings in children's art school. I found out that some kids were way ahead of me; one 11-year-old boy basically teached me all the basic tricks. So now I can continue my practises alone. I also got a great origami book from my dear friend. All the designs in the above picture, except the crane, are from that book.

Origamit ovat viimeisin villitykseni. Noin kuukausi sitten aloin lainailla kirjastosta aiheeseen liittyvää kirjallisuutta, jotta osaisin opettaa muutamia ihan helppoja perustaitoksia lasten kuvataidekoulussa. Pian selvisi kuitenkin, että muutamat oppilaani olivat jo melkoisia mestareita origamin saralla. Homma menikin sitten niin, että eräs 11-vuotias poika opetti minulle kaikki niksit ja perusjutut. Nyt voin sitten itsekseni jatkaa taitteluharjoituksia. Asiaa helpottaa kovasti myös tämä mahtava kirja, jonka sain ystävältäni. Siinä on kaikkia vähän erikoisempia malleja, jotka sopivat erityisesti kortteihin ja sensemmoisiin. Kaikki muut yläkuvassa näkyvät origamit, paitsi kurki, ovat tuosta kirjasta.



Happy Valentine's day!
Hyvää Ystävänpäivää!