I don't usually do a lot of makeup, but since I like all kinds of natural stuff, these mineral makeups have really caught my interest. At the purest, they consist only of natural minerals. I ordered some samples from Lily Lolo and Everyday Minerals. These little and cheap sample sizes are great for finding the exact match for your own skin color without having to purchase the normal sized jars and then realizing they don't match.

Viime aikoina olen kiinnostunut kovasti mineraalimeikeistä, vaikken yleensä mikään kosmetiikan suurkuluttaja olekaan. Puhtaimmillaan mineraalimeikki sisältää vain luonnon mineraaleja, ei silikoneja, lisäaineita jne. Tilasin näytteitä Lily Lololta ja Everyday Mineralsilta. Pienet ja edulliset näytekoot ovat käteviä kun haluaa kokeilla mitkä sävyt ovat sopivia ennen kuin ostaa normaalikokoisia tuotteita.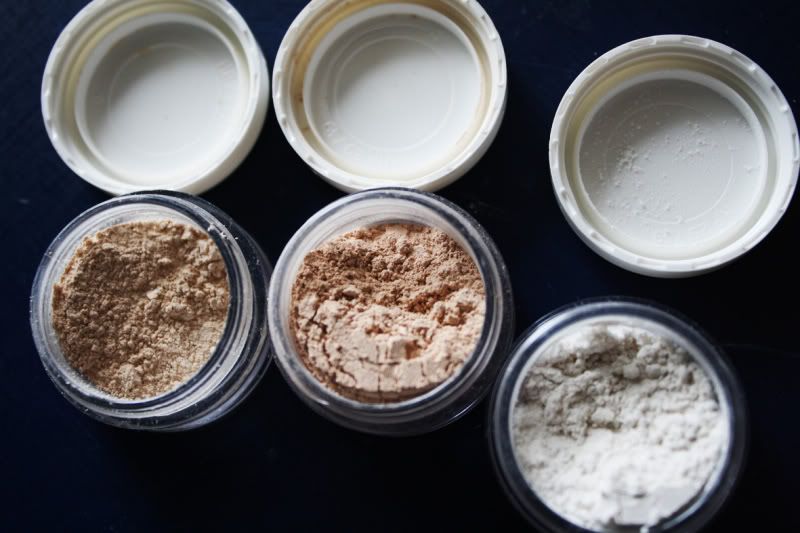 These are foundations and a finishing powder from Lily Lolo.

Kaksi meikkipohjaa ja viimeistelypuuteri Lily Lololta.



I got five free samples from Everyday Minerals. I also bought two synthetic and incredibly soft brushes, the first one is a flat top brush for applying the foundation/powder, and the second one a concealer brush.

I must say this stuff works very well and feels good on my skin!

Sain Everyday Mineralsilta viisi ilmaista näytepurkkia. Ostin myös kaksi synteettistä ja uskomattoman pehmeää sivellintä. Tuo ensimmäinen tasapäinen on tarkoitettu meikkipohjan tai puuterin levitykseen. Toinen on peitevärisivellin.

Täytyy myöntää että nämä jauheet kyllä toimivat ja tuntuvat oikein miellyttäviltä iholla!