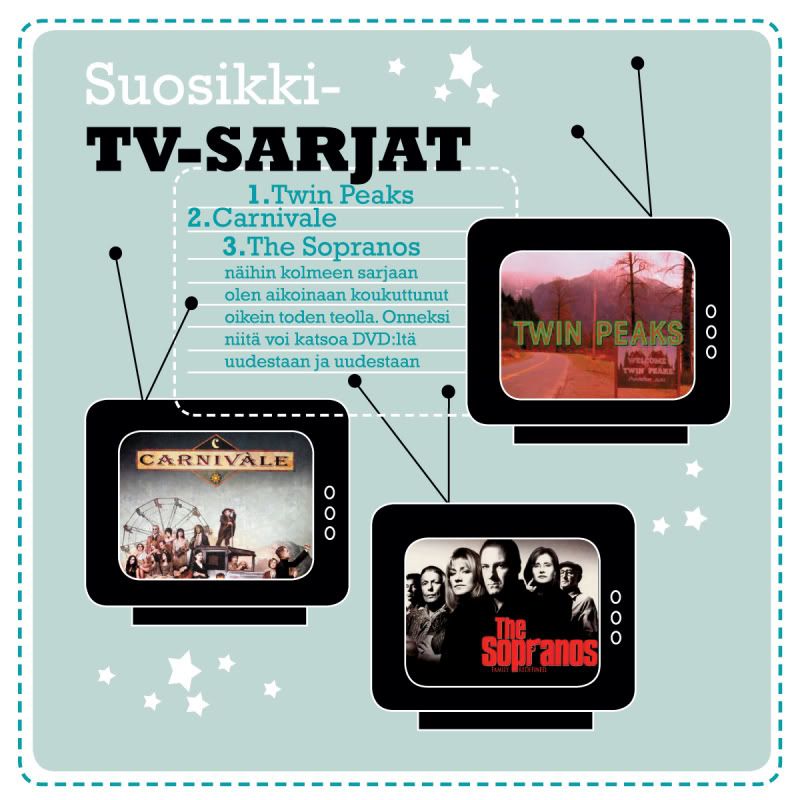 Catching up with my crafting projects... I'm a bit late with my layout for Listamania challenge: Favorite TV-series. I'm not sure if this really qualifies for a scrapbook page, because it's all digital. Making layouts with computer isn't exactly my idea of having fun with scrapping, but now I've tried it anyway.
I used InDesign, converted the document to pdf and then to jpg image, so hopefully the colors don't look too creepy and bright on your screens.

Olen hieman myöhässä edellisen Listamania-haasteen kanssa, aiheena oli parhaat TV-sarjat. En nyt ehkä ihan käsi sydämellä kutsuisi tätä oikeaksi scrapbook-sivuksi, koska se on tehty kokonaan tietokoneella. Päätin nyt kuitenkin kokeilla tätäkin tapaa, tosin ei koneella työskentely ole ollenkaan niin hauskaa kuin leikkaaminen ja liimaaminen.
Käytin InDesign-ohjelmaa, muutin tiedoston sitten pdf:n kautta jpg-kuvaksi, joten toivottavasti nuo värit eivät näytä ihan karmean räikeiltä näytöillänne.