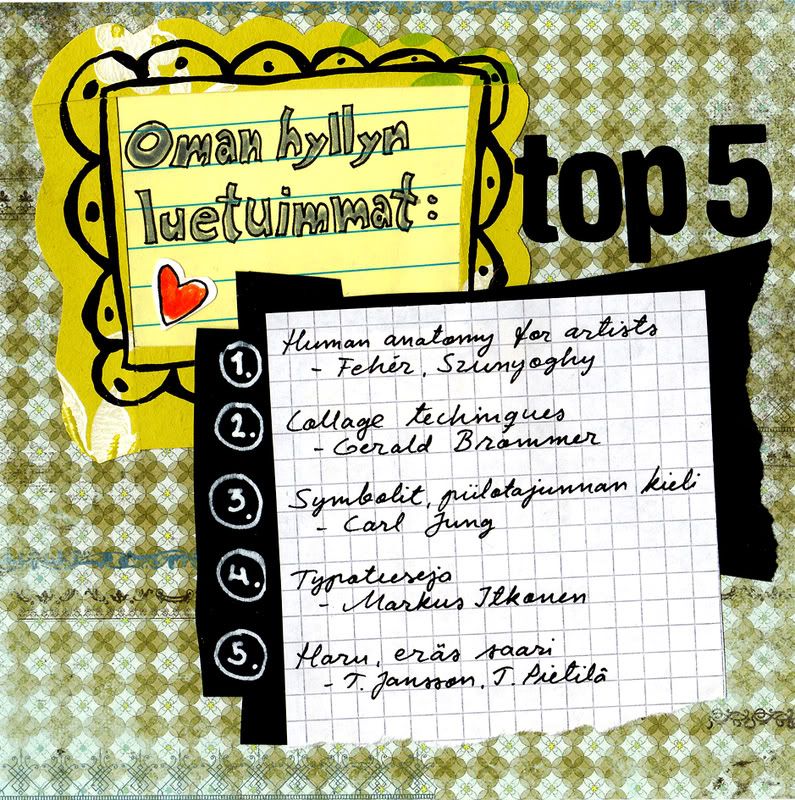 I'm taking part in Listamania challenge. The first assignment was to make list about books. It could be about your favourites or most wanted ones or whatever, as long as it's book related. My list is about the books in my own bookshelf, that I read most often. I'm going to make my list pages in 15x15 cm format and bind them together with binder rings.

Osallistun Sannnikan Listamania-haasteeseen, jossa ensimmäisenä tehtävänä oli koota kirja-aiheinen lista. Perusteet listaamiselle sai päättää itse. Omien suosikkikirjojen paremmuusjärjestyksen miettiminen osoittautui ylivoimaisen vaikeaksi, joten päädyin sitten rankkaamaan omasta hyllystäni löytyvät opukset luetuimmuusjärjestykseen (voiko tuollaista sanaa käyttää?) eli että mitä tulee useimmin lueskeltua. Lista on siis aika tietokirjapainotteinen:

1. Human Anatomy for Artists; Gyorgi Feher, Andras Szunyoghy
2. Collage techniques; Gerald Brommer
3. Symbolit, piilotajunnan kieli; Carl Jung
4. Typoteeseja; Markus Itkonen
5. Haru, eräs saari; Tove Jansson ja Tuulikki Pietilä

Omat listasivuni teen 15x15 cm kokoon ja yhdistän valmiit sitten albumiksi.